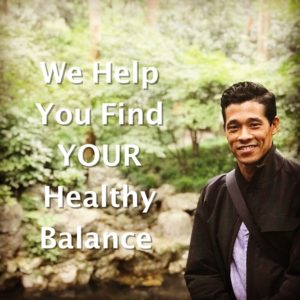 Dr. Raymond V. Garner, DOM, AP.
Asian Arts of Balance was founded in 2003 by Dr. Raymond V. Garner in Boca Raton Florida. Raymond completed his training at American College of Traditional Chinese Medicine (ACTCM) in San Francisco) in 2002. He was also a Respiratory Therapist since 1996. Raymond continued to learn several styles of acupuncture, and trained in Chengdu, China for acupuncture and herbal medicine.
He also also completed instructor level training for Chi Gong (London) and Longevity Breathing (Greece) and Bagua (Ibiza). Raymond was great source of knowledge especially when deciphering the corresponding diagnosis between Chinese medicine and western medicine. He had a great understanding of the body and could effectively communicate with patients and western MD's. The best treatment for patients consists of a combination of these two medicines. It was Dr. Raymond's goal to remain on the forefront of the change in medical times; therefore our physicians at Asian Arts of Balance continue to attend new training and are always listening to their patients to learn more, and strive to continue on his legacy and work at Asian Arts of Balance. 
Here is what our patients
Have to say
about our Practice
This is the picture of my daughter that I promised to send you! I really wanted to thank you for all you did during those months of weekly treatments. I was coming during my lunch time form work every week and it wasn't easy, but all along I knew in my heart that it was going to work! We had been on our 2nd IVF cycle with no results when I met you, I was feeling very overwhelmed and defeated. Finally, after a few months of weekly acupuncture with you, our 3rd IVF cycle was successful!!! I just cannot express enough how grateful I am for your time and the amount of care you gave me! I am truly forever thankful for your great acupuncture treatment!!!
Dr. Garner is amazing! I came to him initially, because I was suffering from really bad painful periods. It's been a couple of years since I have had a period where I'm not dousing myself with pain medicine. I decided that I wanted to regulate my hormones and find a natural approach to curing this. After my first visit with Dr. Ray I had my first PAIN FREE period. I seriously could not believe it. He is so knowledgeable and knew exactly where my problem might have been coming from. His office is so relaxing, making you never want to leave. I would most definitely recommend him to anyone looking to find an answer and a natural cure (not remedy) to your problems! I will continue to see Ray for treatment. I would recommend friends and family anytime.
Dr. Garner's exceptional diagnostic abilities helped me to recuperate from a leg surgery and eased the pain I felt tremendously. I no longer take pain medication. I have noticed from time to time when I am under stress or feeling depleted, treatment restores my vitality and enables me to relax promoting a deep sleep. The herbal formulas recommended seem to balance overall energy and strengthening. I will continue to see Ray for treatment. I would recommend friends and family anytime. Wendy Knowles-
I had the most incredible treatment with this acupuncture physician . During a particularly stressful week , I had developed severe neck and shoulder pain ; combined with a headache I then became unable to sleep. After a brief , but very detailed consultation Dr. Ray used a series of acupressure points , needles, and cupping . I experienced so much relief I went home and took a nap . Several hours later when I got up , I was pain free for the first time in a week ! I will continue to visit his clinic , and cannot say enough about his kind and considerate demeanor . Thank you so very much.
Dr. Ray is absolutely amazing. I had never tried acupuncture before and was recommend by a friend to try Dr. Ray. After my first visit, I already started feeling amazing. He is great at what he does. He explains everything that is wrong, what he is going to do to fix the issue and why it is going to help. You feel totally comfortable the entire time you are in your session. I would recommend Dr. Ray 100% to anyone who is interested in a natural approach to cure pains, aches, digestion issues, etc. My sessions have involved stress relief, pain and sore muscles as well as balancing.