Saturday & Sunday 10:30 AM  Tuesday & Thursday 6:30 PM
                                                           Tamarac Office
Call (954) 553-0933 for more information
Sabeena yoga goal is to help student see a clearer purpose to life by building a healthy body and clear mind. We believe in the importance of keeping the physical and mental facultilites strong to delay the aging process. 
We teach beginners to advanced postures tailored to the individual. Sabeena yoga focuses on small, intimate classes so each student receives individualized attention. We use hands on assists to guide student into proper alignment, We know that each student has their own physical strengths and challenges. Our goal is to work within those parameters to help students meet their full potential. 
We Encourage our students to follow the five points of yoga indicated in the teachings of Swami Sivananda. 
1.) Proper Breathing
2.) Proper Relaxation
3.) Proper Exercise (Asana)
4.) Positive Thinking and Mediation.
5.) Proper Diet
Sivananda yoga is an organic practice steeped in tradition. You can visit any Sivananda Ashram in the world and find the same Asanas (postures) practiced in the same order. Sabeena yoga teaches posture variations, to accommodate students different levels of fitness. 
call
(954) 553-0933
For More information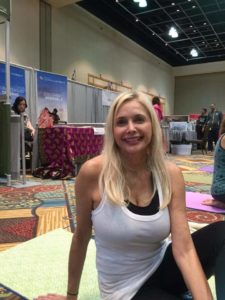 Shelli August began practicing yoga to quiet the mind and gain strength and flexibility about 20 years ago. This practice helped her in the hectic pressured filled corporate world of development sales.
After being introduced to Sivananda yoga and the benefits, she deepend her practice and opened a studio in Coral Springs, FL. In addition she held yoga retreats in California.